Animal Haven is a skilled rehabilitation and training team. We're a family of passionate staff, volunteers, and supporters committed to enriching the lives of homeless pets from the moment they enter our care. And — we're both a friend and resource for life.
So, we're here for animals and their adopters whenever they need us.
Animal Haven is a 501(c)(3) nonprofit organization with a four-star rating from Charity Navigator.
We are also an authorized shelter by the State of New York Department of Agriculture and Markets as a New York State Registered Shelter/Rescue (Registration No. RR086).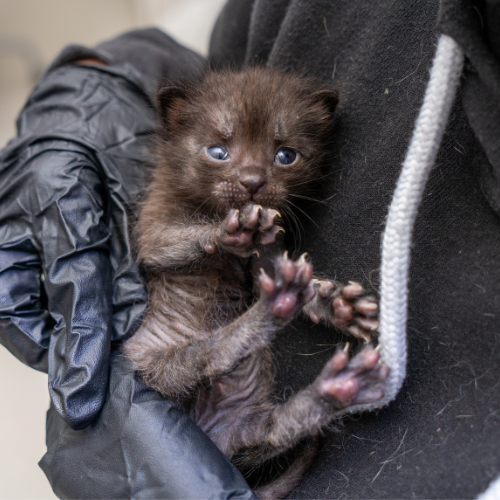 Our History
We've served the New York City Tri-State area since 1967, and are humbled to be trusted experts in the animal rescue world. The care we provide our cats and dogs, including behavior intervention, enrichment outings, and ongoing support after adoption, make us one of the top choices for pet adoption in the region.
Our Policies
We have four core policies that ensure our organization remains ethical, transparent, and accountable.
Board members and staff notify all board members of any perceived or potential conflicts of interest and abstain from voting on any issues where a conflict of interest has been determined to exist.

If any employee reasonably believes that some policy, practice, or activity of Animal Haven is in violation of law, a written complaint must be filed by that employee with the Executive Director or the Board President. It is the intent of Animal Haven to adhere to all laws and regulations that apply to the organization and the underlying purpose of this policy is to support the organization's goal of legal compliance.

The support of all employees is necessary to achieving compliance with various laws and regulations.

An employee is protected from retaliation only if the employee brings the alleged unlawful activity, policy, or practice to the attention of Animal Haven and provides the Animal Haven with a reasonable opportunity to investigate and correct the alleged unlawful activity. The protection described below is only available to employees that comply with this requirement.

Animal Haven will not retaliate against an employee who in good faith, has made a protest or raised a complaint against some practice of Animal Haven, or of another individual or entity with whom Animal Haven has a business relationship, on the basis of a reasonable belief that the practice is in violation of law, or a clear mandate of public policy. Animal Haven will not retaliate against employees who disclose or threaten to disclose to a supervisor or a public body, any activity, policy, or practice of Animal Haven that the employee reasonably believes is in violation of a law, or a rule, or regulation mandated pursuant to law or is in violation of a clear mandate of public policy concerning.

The salary of the Executive Director is determined by the Board of Directors. Any change in this salary must be presented and voted on by the Board. Decisions are only made by a majority vote.

Animal Haven does not share, sell or rent donor information. Donor information is only used to communicate with donors via email, mail and phone. Donors are always offered the opportunity to remove their name from our list.
Frequently Asked Questions
Animal Haven is a nonprofit organization that finds homes for abandoned cats and dogs throughout the Tri-State area, and provides behavior intervention when needed to improve chances of adoption.

Founded in 1967, we operate an animal shelter in Manhattan. We also provide programs that enhance the bond between animals and people. Animal Haven is a 501(c)3 organization.

We are located at 200 Centre Street at the corner of Hester Street.

The closest subway lines are the N, Q, R, W, J, Z, or 6 to CANAL. You may also take the B, D to GRAND Street or the F, M to Broadway-Lafayette.

Animal Haven is open for walk-in visits every Tuesday-Friday from 1-7pm and Sundays from 12-4pm. We also offer individual appointments Tuesday-Sunday from 12-7pm.

We are closed on Mondays.

Phones are answered from 12-7pm.

We ask that potential adopters have an idea of what they are looking to adopt prior to making an appointment in order to streamline visits. Please check out our currently available cats and dogs and then submit an adoption inquiry to make an appointment to visit our animals.

Yes, we do! Potential adopters are required to visit and pickup the animal at our facility as part of our adoption process. We are unable to transport our animals.

We do utilize fosters for some of our animals, including neonatal (bottle-baby) kittens. Our fosters are recruited from within our shelter volunteers. If you're interested in fostering for Animal Haven, please visit the volunteer section of our website and sign up to become a volunteer.

Animal Haven will never euthanize for space or time. Adoptable animals will stay in our care for as long as it takes to get them adopted or placed in a more suitable rescue or foster situation.

Due to the fact that we are such a small shelter with limited time and resources, we cannot accommodate school group visits.

Visit our resource on how kids can help shelter animals for youth-friendly activities that can support animal welfare.

Please visit ACC's Lost and Found and file a missing pet report! We recommend calling around to your local shelters and rescues to see if your pet has been brought in.

Social media is also a great tool for spreading the word, there are many local Facebook pages that can help.

First, please visit ACC's Lost and Found page and file a report. We are available to scan for a microchip during business hours, please email info@animalhaven.org to arrange a time to come in. We are a private, limited-admissions shelter so depending on space available, we may or may not be able to house the animal until an owner is found.